Gender inequality, lack of diversity and pay inequality are a few of the issues that continue to plague the media and entertainment industries.
The Women's Media Center's 2015 Status of Women in the U.S. found that gender inequality among journalists persists at nearly all media outlets with men receiving 62% of bylines and other credits in print, Internet, TV and wire news.
In film, 83% of directors, executive producers, producers, writers, cinematographers and editors for the 250 most profitable films made in the U.S. in 2014 were men. And in television, women writers earned approximately 92 cents for every dollar that white male writers earned in 2012.
Even in the tech world, which continues to be a power player in entertainment and social media, men account for 70% of the workforce.
As media, television, film and entertainment have the power to shape and influence our world, how does this lack of representation continue to impact our cultural identity as well as influence the role of women and girls? And how do we continue to fight for more diversity and inclusion in newsrooms, production offices and film sets?
With this background, the 10th Annual West Hollywood Women's Leadership Conference aims to facilitate and address these questions and provide tools for moving forward with a range of panels, discussions and a keynote address featuring filmmakers, film and marketing executives, and writers.
---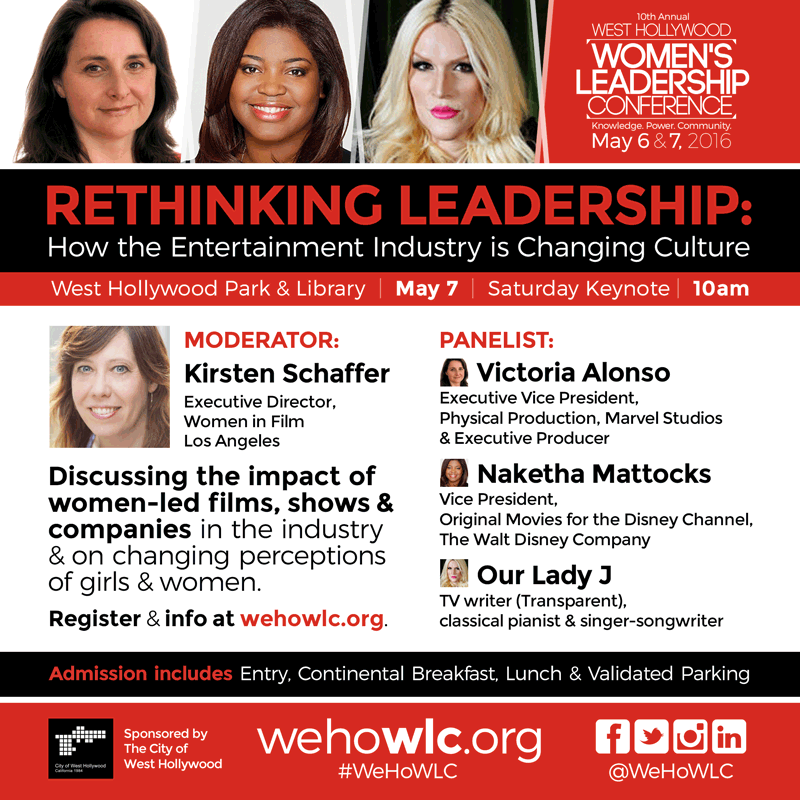 Rethinking Leadership: How The Entertainment Industry is Changing Culture
The May 7 morning keynote Rethinking Leadership: How The Entertainment Industry is Changing Culture, sets the tone for the day. Curated by Women in Film Los Angeles, an esteemed panel of writers, directors and executives will discuss the important role media plays in changing perceptions of women and girls.
For decades, films, television shows and digital media have shaped American identities and cultural expectations, showing us who we are and who we can become. Join the panel and the conversation, discussing: What is the impact of women-led films, shows and companies within the industry? As storytellers at the heart of this art form and business how do we continue to break new ground? What (if any) is our responsibility to the next generation of girls and women? What does a Utopian women-centered industry look like and how do we get there?
Panelists:
Moderator: 
---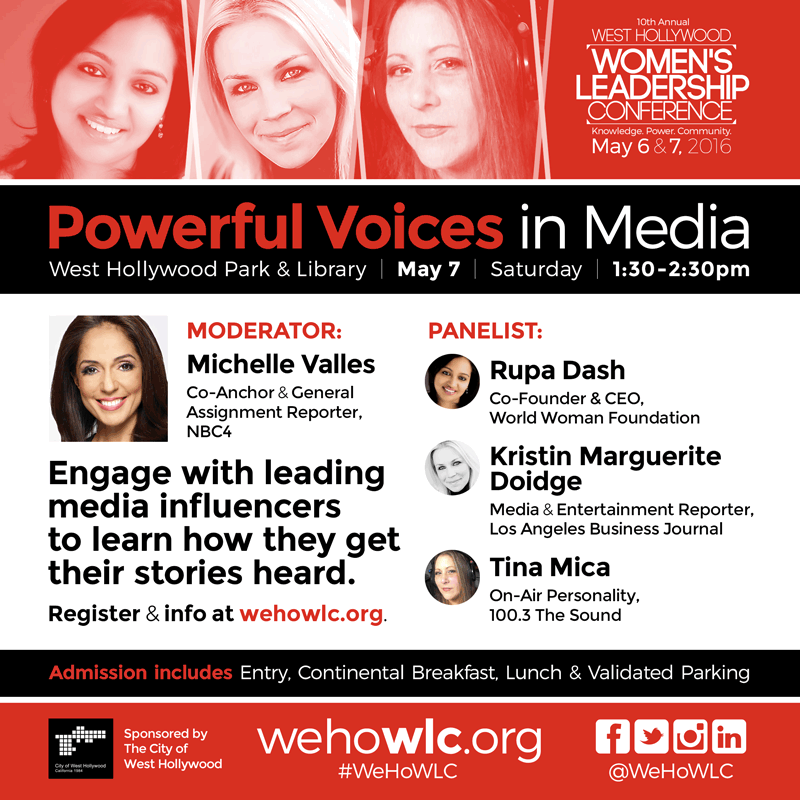 Powerful Voices in Media
The afternoon session includes Powerful Voices in Media panel with leading advertising, marketing, media and public relations executives/influencers discussing how they get their stories heard. Gain a better understanding of the media and communications landscape and discover how to leverage your power and advance women's voices.
Panelists:
Moderator: 
---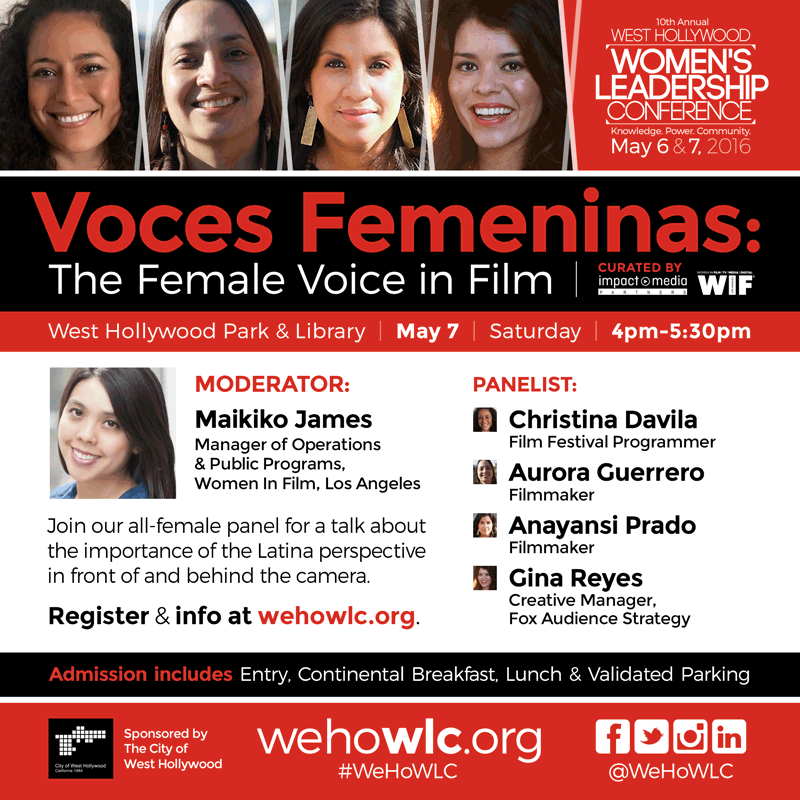 Voces Femeninas — The Female Voice in Film
Our May 7 conference closes with Voces Femeninas — The Female Voice in Film, an important discussion with award-winning filmmakers and film industry influencers.
We have heard a lot this year about demographics in Hollywood. From #OscarsSoWhite to the infamous Hollywood gender gap, there are real problems with representation in media. Against this backdrop, our all-female panel will talk about the importance of the Latina perspective in front of and behind the camera. Speaking on issues of representation, the storytelling craft, and professional development, this is a session not to be missed.
Panelists:
Moderator: 
The closing session is curated by Impact Media Partners & Women in Film Los Angeles.
For more information about the May 7 conference, visit the Schedule page. You can register via Eventbrite.